---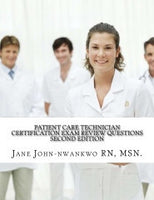 Patient Care Technician Certification Exam review Questions (2nd Edition) is a compilation of more than 800 questions ranging from basic nursing care, EKG, Phlebotomy, career development and professional ethics questions to help patient care technician students challenge their certification exams.
Patient Care Technicians can simply be said to be a combination of nurse assistants and medical assistants because they perform the duties of nurse assistants as well as the duties of medical assistants. They work under the supervision of nursing or medical staff to provide basic patient care which may include the following:
- recording vital signs, height, weight, input output, collect and test specimens, report and record patient conditions and patient treatments.
-Helping patients with nutritional needs; check and deliver food trays, assist with feeding the patient when necessary, and refilling water and ice.
-Assist patients with their mobility ;turning and positioning, do range of motion exercises, transferring patients to and from wheelchair, assist with ambulation.
Publication Date: Jan 02 2015

ISBN/EAN13: 1505894778 / 9781505894776

Page Count: 140

Binding Type: US Trade Paper

Trim Size: 8.5" x 11"

Language: English

Color: Black and White

Related Categories: Medical / Education & Training