---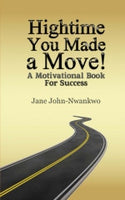 An Excerpt from the book:
We can all come up with a million excuses not to act:
* My family needs my salary. I can't quit my job.
* I'm on an upward career track. Now is not a good time
* I haven't the capital to get the idea off the ground.
* Maybe it just seems like a good idea.
* If this idea is so great, how come somebody hasn't already implemented it?
* My friends would think I was crazy.
* My kids need my spare time. I can't afford to take the time now.
* I don't know the first thing about running a business.
No matter your excuse, it's HIGHTIME YOU MADE A MOVE!
Publication Date:Mar 20 2014

ISBN/EAN13:1497343577 / 9781497343573

Page Count:62

Binding Type:US Trade Paper

Trim Size:5" x 8"

Language:English

Color:Black and White

Related Categories:Business & Economics / Time Management