---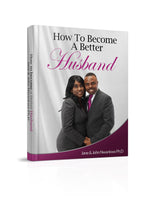 This book was written by the famous motivational speaker and seminar leader Jane John-Nwankwo.
After reading this book, be sure to purchase "How to Become a Better Wife".
When God said "Let us make man in our image..." Genesis 1:26, He wanted to make a creature full of love and wisdom just as He (GOD) is. He created the male first with many endowments of mental, spiritual, caring and physical attributes that may not be all seen in the female. A man is needed for every woman to be complete.
God created men with special abilities that women lack in order that they might not only be great companions, but 'a strength for life's journey' for women!
This book is a manual as well as a motivational book for men who wish to accomplish God's purpose in their lives as husbands.
If any strength or encouragement is drawn from this book or if you learn something that will make you a better husband, then the purpose of this book would have been achieved.
Publication Date:Dec 03 2014

ISBN/EAN13:1502540096 / 9781502540096

Page Count:240

Binding Type:US Trade Paper

Trim Size:5.5" x 8.5"

Language:English

Color:Black and White

Related Categories:Family & Relationships / Love & Romance